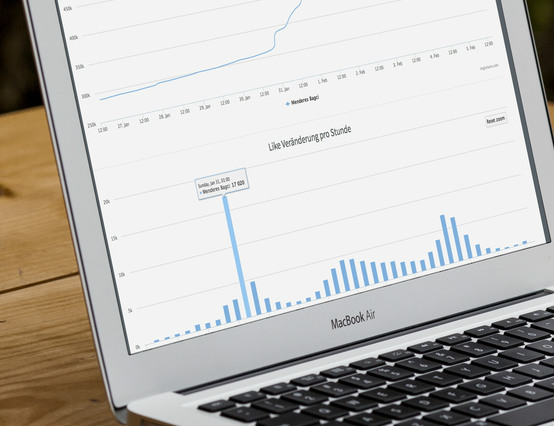 Monitor competitors

You are in a market with many competitors who are regularly active on Facebook? Then set up a dashboard and add your competitors:
From now on you know when your competitors Facebook-Fans increase and decrease. Then you can analyze what has caused this growth. Was it a Facebook post, or a newsletter (which you have previously subscribed to) or an action on the website ...?
Find out now, when and how your competitors are generating new Facebook-Fans.
Just for fun!
It does not always have a business case behind it: Simply create a dashboard with your favorite actors, athletes, clubs, favorite shows, ...
There is a new "I'm a Celebrity…Get Me Out of Here!" or a new "Celebrity Big Brother"? It would be interesting to see when each person is increasing or decreasing in popularity?
The imagination knows no limits! Set up a dashboard with a background image, colors and transparency and publish your individually designed dashboard, so that others can access it, see the development of the Facebook-Profiles and can discuss about it.
Hourly requested Like-Numbers
Likes are extracted and stored once per hour.
Grouping on Dashboard
Create a dashboard with Facebook pages
Detailed analysis of each Facebook-Page
You see when a page has changed and how
Customizable Dashboards
Choose a background image, color and transparency for your dashboard
Publish dashboards
Share the dashboard with your friends and talk about the changes
Have fun
See the development the Facebook-Fans
What does an account cost?
A Likeaholic account is free of charge. Everyone can watch up to 10 Facebook profiles for free. You should, however, sign up once a month at Likeoholic because accounts that are inactive for more than 30 days will be deleted with all dashboards and Facebook-Pages.
How long is the data stored?
To ensure that our database is not too crowded and the evaluations remain clear and fast, the hourly polling results are held for 3 weeks. After that time, some datapoints are deleted and only a part of them still remain:
Younger than 3 weeks: 24 entries per day
Older

than 3 weeks

:

2

entries

per day




Older than 5

weeks:

1

entry

per day




Older

than 7

weeks:

2

entries

per month




Older

than 9

weeks:

1

entry

per month